June 12, 2020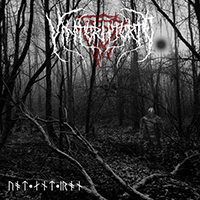 Shrouded in gloomy mystery, the guitar solo and musical covers set the mood for a procession of the Blacken The Sun confident vocal part, which carries away with it a vortex of musical passages. Inspirational guitar passages, combined with other musical variations, continues the Vinterhjerte - Wood And Iron album with the Ride To War valiant heroic saga, pulsating with rhythmic inspiration and combining deep growling with furious screaming in the vocal part. Sometimes the tunes of the flute give the sound some trends of mysticism. The guitar solo of the instrumental part raises the charm with the sound of the song to incredible heights, then intertwined with the artistry of keyboard variations. The title track Wood And Iron continues this musical extravaganza, weaving together the charm of northern folklore and the pulsating march of metal music drive.
Weaving the bewitching lace of the majestic ballad Hel's Gate then develops these motifs into a procession of an inspired march, introducing vocal narrative notes of an epic tale of a heroic battle. Crowning with an enchanting guitar solo an inspirational jump of musical procession, the Mímir's Sight then complements this rush with a vocal part. Continuing and developing the motives inherent in the previous compositions, Journey To Valhalla weaves them with inspired flute tunes, then combining them into a procession of a severe anthem and weaving screaming and growling in the vocal part.
The majestic tunes of the Chains bard saga are combined with the thoughtful sighs of a wind instrument, raising the majestic castle of an epic musical narrative that accelerates the pace with the introduction of vocals to a harsh musical action movie, paying for the axis of the main motive with vocal variations. The twilight mystery of the War Mantra mid-tempo narrative alternates between screaming and growling in the vocal part, crowning the musical image with flute tunes.
A flute, keyboard variations and a bewitching chime of strings weave a symphonic intro lace, the By My Axe vocals appeals to a wave of restrained drive. The mysterious procession of Winter's Bite musical mystery is combined with thoughtful growling, sometimes exploding with streams of rampant drive with furious screaming, completing the album with an impressive union of vocals and music.