June 17, 2016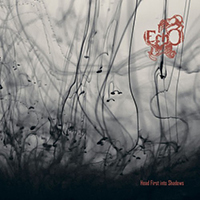 What will be on the top? (EchO) - Head First Into Shadows.
Slowly and dreamily begins Blood And Skin, only from time to time guitar denotes its presence. Then all of the instruments joins to that slow dance of sublime lyrical dreaming, then vocals came with melancholic story. Growling completes this part of the sad story. Then this sequence repeats.
This Place We Used To Call Home clean vocals leads his story, with a little bit of melancholy and wistful lyrics. Then growl detonates instrumental frenzy surrounding its waves of rage and aggression, but without hiding melodic component. Ornate and strong start, call by its guitar riffs upon Beneath This Lake. Confessions of clean vocals and calm and quiet accompaniment continues until growl not wake instruments and guitars, reminiscing riffs that present in the intro. But clean vocals will return to the battlefield in the next verse, growl - in the next chorus. The instrumental part, started by fierce guitars sounds with strange and mysterious riffs guitars, violin and some the beyond keyboard. Growling completes the track.
Dreamy a fabulous fairies dance, fierce trills of their enemies continue, so fairies are Gone! But the memory of fairy creatures sings vocals in accompaniment of flute, which is supported by guitars in the spirit of fairy tales. Then enemies convey their screaming-growling to the song patterns.
Organ sublimely and impressive starts A New Maze, continued by grieve dreamy clean vocals, accompanied by rare guitar music, then instruments adds might and power, so clean vocals - raises emotionality. During the composition growl almost does not occur - but he was destined to finish the track with high speed and fury!
Guitar fingering opens the discussions about Order Of The Nightshade. Clean vocals continues this musical canvas, to which is added the violin 'till growling enslave all the band for its furious rush. Violin isn't obey to this rage, the other instruments with keyboards connect back to previous palettes. It occurs again - so the growling with the unbridled fury will end as the song and the entire album.