August 01, 2019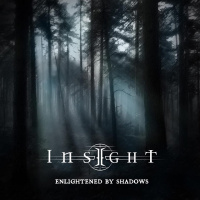 The mysterious mystery of the Echoes shamanic ritual begins the In-Sight - Enlightened by Shadows album with fascinating musical greatness, serving as the introduction of the next composition Confined, developing the melodic lace of the majestic ritual into an inspired stream of mesmerizing mid-tempo drive.
Heavy breathing and a pulsating heartbeat end with a powerful wave of dark drive, the Pit of Snakes verse is soaring from side to side, full of doubts and guesses, and the refrain is lifted by as epic banner. Vortexing the guitar passages around the pulsating mid-tempo march of the vocal part leads the Dawn of Redemption chorus to the majestic temple, then it accelerates the pace.
The My Own Path main motive evokes the epic atmosphere of a mysterious fairy tale, supplementing it with an uncontrolled stream of harsh drive, persistently and confidently walking in the chosen direction, then the Woods of Misery after a mysterious foggy entry transforms the drive stream into an even more rapid blade of a deadly thriller.
Exalting the bewitching melodic celebration Blank Horizons is exalted by the bewitching musical trend of an inspired epic ballad, rolling scrolls of spells and magical tales of ancient fairies.
The next composition seems to consist of two parts - first, the Inner Sight acoustic guitar solo expands the limits of romanticism, then Inner Voice rolls the musical canvas of a harsh drive, in which the vocal part indicates the development of the main motive and the musical passages are complemented by enchanting improvisations in bridges. No End completes the album with a swift wave of drive, confidently and violently spinning the spindle of the main motif, shrouded in swirls of guitar passages.