June 28, 2017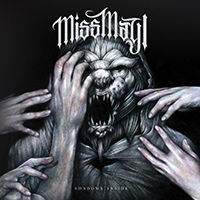 The title track begins the Miss May I - Shadows Inside album with an energetic drive, inviting to participate in the unrestrained moshpite.
The next song Under Fire extols melody, capturing the main motive, brightly and captivatingly captivating attention in its framework.
A sad ballad Never Let Me Stay envelops an impenetrable fog, a gloomy romance restrainedly and anxiously glimpses through the gloomy fog.
Starting with a thoughtful, restrained guitar fingering break, My Destruction turns this riff into a spectacular, proud march. The leitmotif with a glorious banner develops over the procession of the musical detachment.
Grim motifs hover gloomy riffs, swirling in dances of painful Casualties, do not let go at will. Beginning like a cosmic ballad, the restrained dreamy clean vocals are occasionally supplemented with inclusions of screaming. In general, Crawl sounds like an encouraging ballad, keyboard samples completes the musical image. Despite the dismal name, Swallow Your Teeth sounds reassuring, inspires a romantic and bright chorus - breaking into a furious drive in the verses. Again, the keyboards passages gives something like cosmic shades.
The encouraging ballad of Death Knows My Name, despite the obvious outcome of being suggests living giving maximum value to every moment of life. In the second verse, the tempo increases somewhat, the rhythmic fractures shine with sparkling sparkles. The beautiful, bright melody combines with a hard, explosive rhythm, in the chorus of Lost in the Gray coming out to the front end. My Sorrow completes the album, completing the romantic dreamy clean vocals in ballad choruses with a sharp screaming and insertion of the recitative in the verses.