May 05, 2021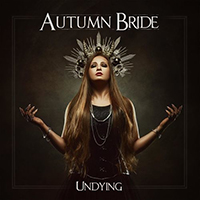 Music lifts inspired vocal appeals in a whirlwind of emotional ascension, blazing rays of the The Path sparkling chorus. The weaving lace of a restrained drive for the Fear and Devotion intro, the music continues the history of the musical tale of the Autumn Bride - Undying album, deriving the vocal party to the foreground of the musical image. The Moonlit Waters song continues to dominate the vocal party in the musical composition, varying the vocal style from inspired romanticism before the effect of opera style.
Persistently marching the rhythm march of joining, the Shadows rebounds vocals emotions on the crest of the music sea, returning to a predetermined entry of a severe anthem in the preceding chorus bridge. Twilight symphony envelops the congestion of the Monsters forgotten fairy tale, whining the listener sparkling symphonic ballad. The Ravenqueen track rolls the waves of the pulsating march, emphasizing the significance of the combination of rhythmic conventional and vocal emotionality.
Returning to the rethinking of its earlier creativity, the group complements the sound of the album with the Guardian Angels debut single. The Undying title track gives vocal shades of oriental folklore and music accompanies the vocal phrase variations. The vocals confidently march at the head of the All of the Lights solemn march, charming the variety and sound of the vocal party. The Forelsket song completes the musical history of the album, whining vocal phrases with epic echoes of ancient legends and fairy tales.