May 13, 2019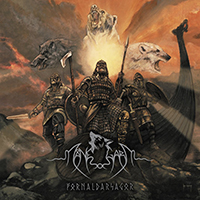 The intriguing plexus of gloomy whirls in the Sveablotet intro starts the Manegarm - Fornaldarsagor album, then the guitar passages twist the intriguing tunnel around the vocal narration. In the chorus, the vocals rises the chalice of celebration of valiant feats, twisting the sparkling lace of inspiration from the phrases of clean vocal with a bardic ballad against the background.
Harsh waves of the tales of verses with violent influences of a powerful drive, in the chorus and instrumental bridges in the Hervors arv song, the vocal and music are honored by valiant feats that remains in memory for ever and ever.
The main motive of the Slaget vid Bravalla composition encompasses the fascinating atmosphere of unity of folk motifs and epic desires piercing time and space. Ett sista farval continues the same unity, but swiftly carried away in an impetuous whirlwind of the northern winds, rushing by a chain of ghostly dragons through times and ages. Viscously, fascinatingly and irresistibly Spjutbadden envelops in a whirlwind of blizzards and northerly winds, twisting in the dance of the main motive. Introducing a certain swiftness in the introduction and chorus Tvenne drommar returns to the epic narration in the chorus, based on the dominant motifs of northern folklore. Epic motifs are enveloped in the spirit of ancient times, the Krakes sista strid vocals narration dominates this epic tale, taking away from the ordinary experiences in the charm of ancient legends, sparkling reflections of icy sparks. A charming, fascinating and pacifying ballad Dodskvadet continues the sound of the album, weaving musical lace from the background tunes of female vocals and enchanting emotional tunes of male vocals.
Giving homage to the legends of metal and the roots of rock'n'roll (Don't Need) Religion (Motorhead cover) partly preserves the atmosphere of the original song, but gives it a certain tinge of swiftness and pays homage to it.
Completing the album with a stream of fierce drive of true metal music record Day Star - Son of Dawn complements it with English-language lyrics and gives a kind of epic charm to the harsh drive.