December 12, 2021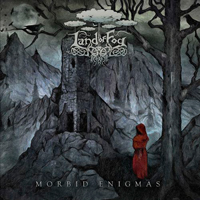 Bright, exciting and impressive, the guitar solo of the Blood Saints intro uprises the banner of the epic march, opening the musical gates of the Land Of Fog - Morbid Enigmas album. The Collapse of the Idols composition retains the musical style of the Nordic saga, at times exploding with the acceleration of the musical flight.
The guitar solo of the On Death's Winds main motif takes you on a swift flight through the epic expanse of fairy tale echoes and memories of epic legends with symphonic musical elements. The Wall of Iron track continues to follow the path laid out by its main motif.
Combining the melodic meditations of the fairy tale legend, the Principles song gives it more of a volkloric influence, supplementing the musical variations with flute tunes. The melodic charm of the Serenity of Madness instrumental track intro's guitar solo mesmerizes the sound, then combines with in a unified charm of musical dance. The Bleed song explodes with a furious frenzy of musical drive, complementing the musical tale with vocal anger in the unified sound of a battle saga.
The vibrant musical canvas rolls out a fast track for vocal reflection, embodied in the collaborative sound of the There Is No Land composition. The Ripping the Sky song develops the fierce sparkle of sounding northern tales, combining music and vocals in a single dance of musical blizzard. In the vocal part, the main screaming complements the background growling. After the introduction of the Hunger Moves Hordes final composition of the album, the vocal part alternates in the foreground of the musical image with guitar solos of instrumental bridges.