April 25, 2018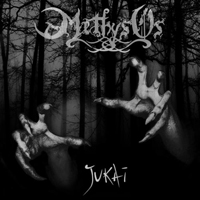 Restrained in the impetuosity, but mysterious vortex sweeps Shinigami intro, then alternating dreamy clean vocals with creaky demonic screaming changes symphonic power in a melodic composition basis, brightly and intriguingly starting the Methysos - Jukai album.
Folklore motifs playfully hovers from side to side while retelling the ancient legend Witches' Broom, calling the name in the chorus again and again, hiding before the mysterious voice of the invisible spirit, but again returning to the legend.
Proud medieval chants and motifs are intertwined with symphonic shades and waves of discreet drive, combining in a charming King Michael III composition mysteriously broadcasting fabulous legends, alternating dreamy clean vocals and meaningful growling.
So romantic ballad Andvaranaut creates cloud castles around the vocal narrative, fascinating with soft melodic passages, complementing them with charming folklore motifs.
Thoughtful reflections of a wise man on a cozy terrace of a well-groomed garden with singing of birds on the background are followed by hard rhythmic explosions of instrumental rabies, creating such an epic musical Aokigahara picture combining such contrasting musical solutions.
If you are tired of a complex variety, then a wave of powerful drive is carried away in a rigid stream of musical fury, combining in Rise of Olympus song melody with rigidity in a bright and diverse manner.
Hot winds from desert dunes bring the spicy spirit of oriental folklore, combining them in instrumental composition Eudora with thoughtful minstrel ballads.
Continuing the eastern motifs in the short introduction, Momotaro changes in musical form, completing the enchanted vocal reflections with the notes of the drive, but at first wise thoughts prevail, but then the evoked demon gives out his hard growling, combining power, rage and melody together.
Electronic motifs transform the humppa into something 8-bit, but then the vocals inspire these electronic tunes into something swift and playful. Completes Folkatroll fiercely and violently, sweeping away all kinds of toys there.
Instrumental symphony Thalassokrator with distant choruses from afar rolls by warlike marches, enveloped in romantic melodies, as if pointing out the ambiguity of wars and battles. Continuing the instrumental structure Koftos completes the album solemnly and majestically - as if harvesting the inhabitants of nearby villages arrange a festival in honor of the fertility gods.