September 24, 2016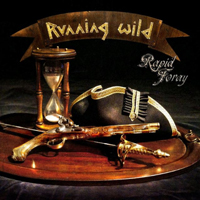 Under the light of the sun, under the clouds shadows Running Wild - Rapid Foray (Limited Edition) - but primarily under the Jolly Roger!
The fun starts pirate crowd of his adventures Black Skies, Red Flag over them. They do not make sense to lose heart, verse sails flying on the wings. The chorus reflections conceal some pace, but it does not carry sadness - only adds to the focus on the main objectives!
Thickening the atmosphere around his narrative Warmongers sneaked undeniable fear and horror of their actions.
The rhythmic pace makes clear and measured progress in these pirate chronicles, Stick To Your Guns goes smoothly and steadily, bringing the note for the pirate crew - that the order is an order, can't do nothing without it!
Vortex of the bass solo begins the title track Rapid Foray, rhythmically circling its-stroke carries the flag forward cheerfully and full of hope for the upcoming prey, the main narrator is echoed by the rest of the pirates.
Continuing rhythmically contribute to pirate chronicles By The Blood In Your Heart sounds almost like a ballad, but not adjusting to the emotional nervousness and melancholy sadness! Toward the end in the accompanying instrument is added to the sounds of bagpipes, complementing pirate chorus.
Instrumental saga The Depth Of The Sea (Nautilus) on top of the ocean holds a guitar solo, floating on the crests of the waves, varying their passages and breaks from melancholy ballad to fast and fickle.
Guitars spoiling for a fight, eager and unrestrained starting Black Bart, a song about the legendary pirate Bartholomew Roberts. Fun, impetuously and irresistibly his story sounds!
It destroys doubt decay, exposes all for the checks - do not want to be Hellectrified. Do not succumb to illusions - slashing them with a saber and throw in the ocean!
Rich music surrounds heavy, impenetrable atmosphere, signs that Blood Moon Rising soon the war will come. Don't believe?! See, war is everywhere!
No turning back, burned all the bridges, nowhere to run - the path Into The West! Living and joyful riffs express the bright rays of hope - No Retreat!
The howling wind and a monologue begins a long and sad story, continuing further with melodic guitar fingering. Then, instrumental might revives Last Of The Mohicans story based on a novel by James Fenimore Cooper!