December 09, 2019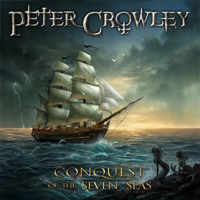 The exciting instrumental sonata On The Shores inspires sea wanderings and captivates with melody in anticipation of adventure. The title composition Peter Crowley Fantasy Dream - Conquest Of The Seven Seas develops the motives embodied in the introduction, complementing the musical passages of instrumental fragments with the rapid rhythm of drums and couplets and the chorus with enchanting vocal phrases.
The bewitching symphony with the noise of the weather in the background begins the narration of Storm On The Waves song, then the restrained drive completes the musical charm, lifting it to the top of the musical image and enveloping it with vocal phrases. Making the enchanting passages of symphony The Island Of Wonders then returns to the leitmotif of the album, rapidly riding on the whirlwinds of instrumental bridges and the chorus, enveloping the vocal melodies of the verses with the enchanting veils of symphonic orchestral suites.
Concerned musical trends intertwines with vocal choirs in an alarming symphony of introduction, then Sirens From The Deep rolls the canvas of an epic story in which vocals are sometimes transformed, introducing phrases of demonic growling. But the maritime fraternity of adventurers gathers in a tavern and remembers their past adventures in the festival, with an enchanting melodic ballad A Drink For The Sailors with folklore notes in the background.
But the celebration ends with a leisurely twilight anthem, glorifying the legend of The Dark Ship, incredible and therefore even more terrifying of ignorance. But the dark anthem ends with a thoughtful symphony transforming into swift passages of drive, inspired by the trends of oriental folklore motifs intertwined in the At The Gates Of Abyss instrumental composition with symphonic tunes of notes of classical music.
Returning to the leitmotif in The Underwater Kingdom epic saga, music transforms it, supplementing with newer and newer musical variations and shades. The introduction of vocals is preceded by a wave of rapid drive, vocals initially harden their sound, but then again returns to melodic and enchanting thoughts. To New Horizons concludes the album with a mysterious instrumental suite, which in the middle is supplemented by the sage's speech.