May 06, 2020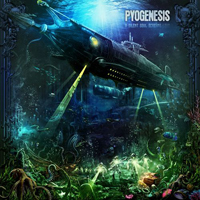 Boosting a vocal part with a swift stream of fierce drive of musical passages, Survival of the Fittest sometimes tightens up the rhythmic component, but brings charming melody in bridges and choruses, starting the Pyogenesis - A Silent Soul Screams Loud album with an impressive unity of musical contrasts. The Mother Bohemia track continues this style, alternating between the rapid explosions of the drive with bewitching symphonic romanticism.
The next composition is divided into dilogy - starting with a romantic inspiration of the I Can't Breathe (Prologue) vocals experiences, dominating the vocal monologue in a musical image, complemented by a musical background, then bringing I Can't Breathe (Monologue) vocals to the foreground of the solemn hymn the significance of vocal phrases.
Combining musical passages with a vocal part in an exciting dance, High Old Times walks along the edge of an emotional ballad and a mid-tempo composition. Modern Prometheus (feat. Chris Harms & Lord Of The Lost) further enhances the ballad influence, complementing the musical charm of originality with vocal phrases of the invited musician, sometimes bringing his pensive inspiration to the forefront of the musical image.
Walking with the stern inspiration of a mid-tempo march, Will I Ever Feel the Same combines dreamy, clean vocals and fierce growling into an introduction, then bringing up a whirlwind of musical inspiration and riding it vocal dreams. The epic saga of the title track The Capital (A Silent Soul Screams Loud) completes the album, combining vocal reflections and a variety of musical styles, varying the melodic component and rhythm section. The vocal part is complemented by background tunes of sublime vocals.