December 23, 2020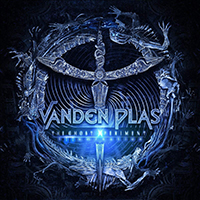 The When the World is Falling Down starts the Vanden Plas - The Ghost Xperiment - Illumination album's musical narrative, enveloping dark vocal doubts and saddened despair with artistic veils of progressive musical variation, bringing a twilight mystery to the instrumental's musical solos. Beginning with the brooding romanticism of the soft and gentle ballad, the Under the Horizon then hardens the musical sound in the epic solemnity of the majestic anthem, while maintaining a mid-tempo slowness.
Maintaining a romantic tenderness, the Black Waltz Death softens the musical narration, captivating with the gentle sound of a brooding ballad, weaving a lace of orchestral symphonies around the vocal part, in which the main male vocals are complemented by the background backing of the singing lady. The Lonely Psychogon takes you to the vastness of a musical fairy tale, weaving musical variations into a whirling of a bewitching dance against the enchanting background of a musical symphony.
Pumping waves of musical grandeur, the Fatal Arcadia sometimes transforms with sad fragments of vocal meditations, but then rolls over again with musical prowess with shades of a battle march. The vocals are sometimes hardened to the phrases of angry growling. The Ouroboros acoustic ballad then complements the musical grandeur with orchestral melodies and the heartbeat of a keyboard solo.
The keyboard solo with gentle piano melodies sets the Ghost Engineers main motive of ballad, wrapping it with covers of symphonic orchestral charm. The Krieg Kennt Keine Sieger (Bonus Track) completes the album's music book, complementing the apichniy motives with the triumph of melodic charm.The lyrics of this composition combines English and German languages.