December 19, 2021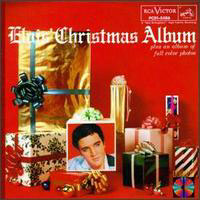 The pensive tunes of the immortal rock'n'roll god begin the Elvis Presley - Christmas Album album dedicated to Christmas, complemented by the chorales of the adepts in the sound of the Santa Claus Is Back In Town track. The musical tunes creates a wistful atmosphere for the White Christmas vocals reflections. The playfully danced vocal reflections combine in the inspired sound of the Here Comes Santa Claus song. The I`ll Be Home For Christamas song gives a more inspired and dreamy atmosphere to the sound - as if transferring to the expanse of dreams and desires.
The vocal lyrics come to the forefront of the Blue Christmas musical image, then dance in the rhythmic swiftness of the Santa Bring My Baby Back composition, as if the unstoppable expectation of gifts is imposing a wrap on everyone around them. The vocal monologue supplemented with soft musical passages creates the Oh Little Town Of Bethlehem musical image. The Silent Night composition embodies the sound of a legendary and unforgettable composition performed by an immortal music legend.
Vocally, the rock'n'roll legend's charm descends the tone of the sound, enchanting with the velvety baritone of the Peace In The Valley vocal part, then in the I Believe composition bringing this barb-like charm to the forefront of the musical image.
Spiritual pleas inspire and enchant in the sound of the Take My Hand, Precious Lord plea, foreshadowing the album's conclusion in the It`s No Secret enigmatic composition, enchanting with mystery and as if suggesting the making of Christmas wishes.