October 01, 2021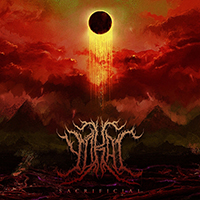 The symphonic mysteriousness of the intro is combined with the explosions of the violent drive and the variant use of screminging and growling vocals in the vocal party of the Absence of Light (feat. Jalen Wallace) magnificent composition. Vocals appears violent anger in intro, continuing the sound of the Yokai - Sacrificial album by fierce pressure and unrestrained drive of the Immolation musical thriller.
Toughly, powerfully and harshly the Counterfeit Clairvoyant song rolling the harsh waves of a dark dark march. The vocal party diversify the additions of a cleattative and angry responses. The Hopeless after romantic entry lines the composite musical essence based on the variable variations of the vocal party. The Throes of Denial and the Sacrificial title track continues unity of the symphony musical atmosphere with a dense and fierce medium-free musical drive, combining power, anger and rage in a single musical image.
The One That Dwells tells a gloomy fairy tale, sometimes receding the vocal rage in front of the symphonic majesty of chorals, but then uniting with them in a single musical rush. The The One That Feeds composition continues such a stylistics of unity of a majestic symphony with a fierce drive, creating an image of fascinating union in the sound of a dark anthem. The Yurei (feat. Nic Cummings) track completes the album with the gloomy magnitude of the dark hymn, varying the tempo and musical stylist.