September 22, 2021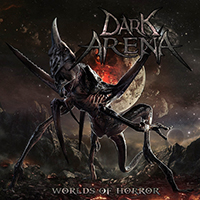 The title composition begins the musical narration of the Dark Arena - Worlds of Horror album with an impressive intro's guitar solo, from which then collects the main motive, topped with vocal reflections. The Dark Arena self titled track pumps the waves of the uncompromising drive, combining musical swiftness with vocal rage, combined with joint melodic pressure. Musical and vocal pressure focus on rhythmic power, rejecting the path of the rapid race.
Music and vocals are intertwined in the fascinating mid-tempo dance of the Annunaki Arise composition. The fascinating artistry of the intro's guitar solo fascinates with complicated musical variations, anticipating complex and unexpected vocal development of the Damnation Within song.
Drive, power and synthesis of musical narration rolling the Bite the Bullet irresistible flow of rage, having a vocal anger on the ridges of musical waves. But in the middle of the sound, the music and vocals are combined in the dance of romantic pondays. The vocal party stands to the forefront of the Kill Procedure musical image, building a musical composition on vocal disputes.
After a brief entry, the vocal party of the Sacred Rite song enters the mysterious omen, indicating the way to promote the musical procession. Music intro is combined with vocala phrases in the mystical mystery of the sound of the Destiny Bridge composition. The Abandoned track completes the album by the mysteriousness of acoustic twilight ballads.