April 30, 2019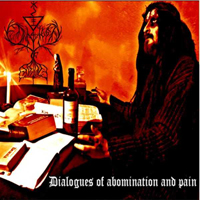 Pumping up the mood of the mystical woman and the melodies of a shaman or priest conducting the ritual sacrament Intro (My Last Sin) opens the gloomy gates of the Omega Of Existence - Dialogues Of Abomination And Pain album, then Broken Cult Of Venus throws up swift twists of drive into the intro, then the musical passages anticipate the introduction of vocal with viscous and painful motives. But then the vocals appeal to the reels of middle tempo passages combined with emotional screaming.
Starting with playful twilight dances, Old Black Yesterdays is then carried away in a furious stream of impetuous drive, initially leaving vocals in the background. Then these stylistics are fused together in the continuation of the composition.
Mystical haze envelops Elegant Dry Tree vocals reflections with impenetrable twilight of ghostly whirlwinds, captivating with the temptations of dark melody.The final musical passages precede the shaman's ritual readings with clean vocals.
Once again, the sage's Spanish-language phrases precede a vibrant guitar extravaganza, anticipating vocal phrases. This composition Enigma Of The Night and the Whispers Of Pagan Faith following it pay tribute and admiration to the black metal origins, some of whom refer more to thrash metal.
Restrained rage pumps waves of gloomy twilight, but then Alone With The Shadows composition is transformed by additions with a touch of doom metal, but then the vocal emotions of screaming call for the pressure of darkness, but the style of the composition remains untouched for a while untill final spurt.
Completing the story of a fairy tale on radio, the final album's Born To Rape The Land composition partly returns to the roots of rock, complementing them with fierce vocal emotions, giving a certain originality to the musical image.