March 31, 2022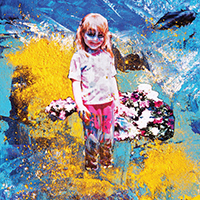 The title track of the Basement Revolver - Wax And Digital (Single) musical release begins his musical narrative enveloping the covers of melodic musical passages inspired by the enchanting vocal phrases of a singing lady, creating the impression of mystical charm.
Entering with the enchanting chime of guitar strings, the Master's Degree composition fascinates with the artistic unity of vocals and musical passages in the sparkling ascension of a musical fairy tale.
The vocal narrative of the singing lady comes to the fore of the Concussion, Pt. 2 musical ballad, then transformed by a rapid whirlwind of musical sparkles, weaving the charm of the chorus in the sparkling musical lace of the chorus fascinating with an unexpected revival of musical drive. The Have I Been Deceived musical story continues the enchanting narrative of the singing lady bringing to the album a soothing soothing with notes of country style in the traditional echoes of bardic musical tales.
Mesmerizing with the romantic introduction that the musical composition occupies, which occupies the dream of the leitmotif, crowns this musical charm with sparkling vocal phrases in the unity of fascinating musical romance. On the What Are You Waiting For, music of romantic ballad concludes the album with its most pensive and mysterious musical creation, combining the unity of musical and vocal passages in joint artistic mysteries.