September 14, 2020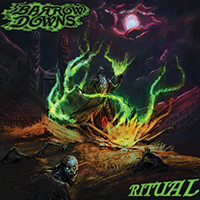 An explosion of drive and indignation builds up a wave of rage, supported at first by vocal indignation. But then the Witch's Glade music of the Barrow Downs - Ritual (EP) album complements the painful musings of the vocals with crushed viscosity and painful slowness, preserving the power and rhythm of the musical narration.
Viscous, painful and thoughtful, the Elder God music weaves its lace in anticipation of the vocal intro. But vocals do not dispel this gloom, they only complement it with the darkness of their emotions.
The rhythmic pulsations of the City of Bones musical narrative pump up the waves of a viscous march, crowning the waves of the musical narration with vocal phrases.
The Ritual title composition completes the album, sternly and meaningfully continuing and complementing the previous compositions, even more viscously and atmospheric embodying their significance and burden.