December 05, 2019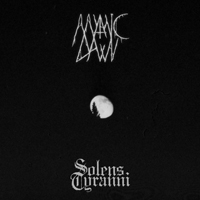 The obscure Djavulsk Andakt rattle, the blows of obscure elements and mysterious sacraments are the introduction to the Mythic Dawn - Solens Tyranni album, erecting the twilight sacraments of obscure elements.
Then the unbridled stream of musical drive sweeps away any obstacles from its path, circling in the deadly dance of honoring the prince of darkness. But, before the final whirlwind of rampant drive, so Satans Slott walks along with the undeniable greatness of the dark anthem, celebrating the dark forces and demonstrating the triumph of evil greatness.
But the Grevens Kammare combines vocal phrases and gloomy vortices of musical passages together, enveloping the screaming of vocals narratives with a tunnel of gloomy musical vortices. The noise of splashing water and the tunes of invisible spirits are completed with Over Dyning thunderclap and preceded by a guitar solo of the Grift I Hav introduction, which sets the rolling waves of the main motive. But then the music and vocals are intertwined in the exciting lace of the musical essence, enveloping the ghostly trends of forgotten tales and obscure images of forebodings. After a brief pause, powerful and bass beats rhythmically and rigidly complement the gloomy march, led by painful, but significant vocal admiration.
Keeping the style of the release, the group pays tribute and respect to the origins of the style, which have become unforgettable legends, in their own way extolling and interpreting the unforgettable Skald Av Satans Sol (Darkthrone Cover) song.