February 07, 2020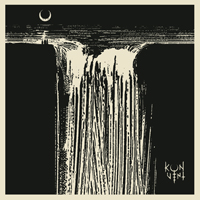 The viscous twilight of a viscous guitar solo stretches the gloomy introduction of the Konvent - Puritan Masochism album's title composition, then the vocals introduce a certain shade of proud pride, solemnly marching in the viscous twilight frame of unhurried tough musical riffs. In the final part, the severe growling of vocal phrases varies with the emotional screaming chants. The buzz of guitar solos rolls the canvas of The Eye main motive, the vocal part slowly and significantly walks along the path laid by the musical passages. Screaming and growling alternates in the vocal part.
The music of the Trust song, twisted in dances of musical dusk around vocal phrases, twists a gloomy cocoon of impenetrable mystery. The gloomy veils of indelible sadness cover the irresistible echoes of musical passages of the World of Gone song, the vocals complement the viscous sadness with their thoughts. The dense and confident procession of the twilight musical Bridge symphony is complemented by severe vocal reflections, starting with deep growling, then complementing and varying it with shades of screaming.
Hardening the musical sound and giving the intro as a whirlwind of dark artistry, first weaving a lace of vocal styles Waste (feat. Tue Krebs Roikjer) then stubbornly and confidently walks along the chosen musical path. Walking slowly along the path of development of musical essence Idle Hands builds a composition on the dispute of screaming and growling, alternating their phrases in the vocal part.
The final composition of the album consists of two fragments - first, Ropes pt. I bases its thoughts on saddened romanticism, then Ropes pt. II raises the banners of gloomy triumph and viscous melody, enveloping with echoes of hidden power and enthralling into wanderings through the shores of darkness and obscurity.