October 03, 2017
The maniac, that was mentioned in the news Heere's Johnny starts Alkol - Beeried Alive album, says that he will not do anything, well .... he will throw her out from here to the abyss. The composition ends with the impulse of a split drive, which is, in fact, as the intro of the next composition Drink Up! continuing the end of the previous composition, sweeping the violent violent waves of playful frenzies and rage inherent in the style. Then a wave of meditations breaks into the bustle of a noisy company, crowned by a short solo bass guitar and a subsequent drive.
Demanding, angry and restless phrases broadcast on the beginning of the next composition Discrimination, sweeping the wave of unfulfilled ambitions, indignation with its role and other restless roles.
Power and rage sweep streams of unbridled phrases Final Infliction, enveloping the surrounding expanses with sharp rushes of dislike and future disasters. Melodic The Hunter main motive combines with sharp, but emotional and demanding phrases, forming a fascinating and unforgettable composition.
The fog enveloping the impenetrable gloom surrounding reality invisibly follows the phrases of the Losing Control narration, melody and phrases dance in an unpredictable dance of unforeseen changes.
Thoughtful phrases, a muffled whisper and mysterious thoughts begins composition The Art of War and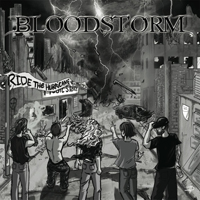 Bloodstorm - Ride The Hurricane album, enveloping then with the pulsating drive clubs.
The title track Ride the Hurricane continues the album, dancing at every step. Russian folk motifs clearly feel in the sound of the composition, then the boyan clearly confirms these sensations. Boyars, vodka, bears with balalaikas are clearly nearby. The fog thickens, overshadowed The Stormrider by the twilight malice, the vocals first make this darkness more severe, then turning into changes of rapid jerks and thoughtful reflections. After that vocals even refers to the clean harsh style.
Reflections in the The Dead Don't Talk verse slowly and steadily march to the chorus, in which the musical canvas is more rapidly unwound, but not too accelerated in its image.
Maybe it's not a cover, and if the cover is too painfully unexpected on Joe Walsh Vote for Me. But, perhaps, the text is highly anticipated if Trump finished his evolution, turning into a zombie finally.