February 17, 2020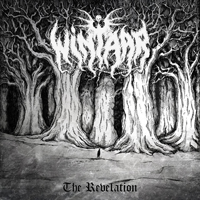 Pumping up a dense shaft of darkness and despair, Wounds And Blackmarks decisively conquers the power of the main motive, at first flying on the black wings of a dragon in a fast-paced musical thriller, but then introducing the majestic tunes of the dark anthem into the Wintaar - The Revelation album's introduction, waving tightly and stubbornly under the banners of the twilight horde and enveloping the emotional vocal cries of the whirlwinds guitar solo.
Exploding again with the fierce anger of an unbridled drive, Contempt however brings some shades of progressive mystery to the mesmerizing guitar solos, sparkling with spirits around the powerful drive of the main motive. Raising the impressive banners of the procession of the valiant army, Frostprophecy sometimes rushes into the fast-paced race of a furious drive, but again and again returns to the symphonic echoes of distant chorales.
The musical narration of the Ultimate Vacuum composition, filled with despair and sadness, rolls the twilight canvas of a saddened symphony, then accelerates in a furious stream of drive, however, preserving the melodic covers of the musical narrative. But then the musical narration returns to the saddened symphony of the introduction and repeats the similar tempo change that has taken place.
The swift flight of the In The Eternal Noose musical thriller is entwined with the mystical echoes of artistic melody, streaking as arrow through the twilight of mythical charms and forgotten legends and legends. The vocal part submits the changes in the tempo of the musical narration to its own instructions.
The majestic narrative of The Revelation medium-tempo dark symphony completes the album with a triumph of melodic essence, complementing the musical charm of the majestic anthem with the painful thoughts of a funeral procession, with a melody of sad followers. But the ending of the composition ascends on the wings of a black dragon, sparkling in the rays of a sunset incredibly melodious ascension.