November 14, 2021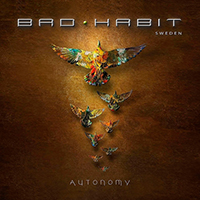 The electronic impulses weave into the musical lace of the introduction, then the vocals come to the foreground of the Retribution song. The I Reach for You composition continues the Bad Habit - Autonomy album with a romantic sound, weaving music and vocals in a mesmerizing dance in the chorus.
In the lyrics of the A Place in Your Heart song, the vocalist recalls his former experiences and his desire to return to the old days. Once again returning to the futuristic sound in the Back to Life intro, the music and vocals then follow the path of doubt and experience, hardening the chorus with echoes of drive.
The sound of the Love Will Find a Way song will indefinitely please the fans of the 80's music - as if setting aside the past time and plunging into a such kind of music. After the disturbing intrigue of the intro, the Lost in You song returns to the romantic embodiment of a similar musical sound to the previous track. Unhurried meditations and unhurried reflections with notes of piano continue the album with the reverie of the Reason to Live romantic ballad.
The atmosphere of the concert, where the audience is charged with the energy received from the stage performance by the musicians themselves, completes the album. First the free and inspired A Lot to Learn (Live) song, then the rebellious, pushy and driveful Alive (Live) track, and the Walk of Life (Live) final chapter, embodying the sensual experiences and lessons learned before.