January 30, 2020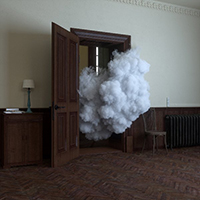 A thoughtful mystery of musical mystery and muffled vocal reflections in the Killer B-Side Music introduction and verse prepare for the development of the musical essence of the We Are The City - RIP album, ascending as a bright flash of emotion in the chorus. The Song In My Head vocals weaves a knot of doubt into the intro, then slowly walking along the path of a pulsating rhythmic march, sometimes ascending with sparkling flashes of vivid improvisations. The Night Guest vocals continues his reflections in recitative, but the music supplements these brooding doubts with the pulsating heartbeat of their sound.
Pumping up the trends of a futuristic space symphony, Obviously weaves a bewitching lace of progressive complication of the rhythmic structure and inspired indie rock's vocal phrases. The You're So Clean guitars part introduces the ageless atmosphere of rock'n'roll, vocals complement the sound echoes of rebellious punk rock.
A thoughtfully pacifying instrumental composition You Can't Blame Me, But You Can Blame Yourself with dubious chorales on the background, anticipating the romantic trends of the romantic sound of the God&Man song. A ballad symphony of keyboard charm envelops the Saint Peter intro, then experimental musical solutions complement the vocal reflections. Keeping the atmosphere of futuristic experiments Me + Me pays more attention to the lyrical component of the composition.
The muffled atmosphere of the Children's Hospital Ambience musical pacification is combined with gentle vocal reflections in the twilight atmosphere of unclear mystery. I'm Not Yours Anymore music returns to obscure ripples, intertwining in a mysterious dance with vocal phrases. The title track Rip completes the album, again and again focusing on fears of death and the importance of cultural traces left.