October 31, 2017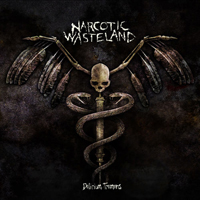 The title of the album Narcotic Wasteland - Delirium Tremens is a medical term, very familiar to the inhabitants of the "single and indivisible" collapsed state.
Already in the first composition Introspective Nightmares, the music is charmingly complex, the elusive turns of instrumental passages do not delays or supress the main motive, but are hovering around, creating a unique ornament.
Then the triumph of the enigmaticaly complex and mysterious musical thought continues in Faces of Meth music, the composition seems to pulsate with unknown impulses, combined in bright melodies and deep vocal phrases. The Return to the Underground music becomes more persistent and straightforward, the vocals change their sound - instead of growling we hear harsh in the fast flowing music. But the bridge before the chorus thickens the instrumental motifs, transferring us rhythmically back to the realm of sparkling ornaments of complex musical images.
The violent storm of instrumental passages already in the We Agnostics intro sweeps a severe drive, further to this rabies joins the vocal, combining the parties of growling and harsh in its sound.
A soft acoustic respite In Memoriam (Intro) calms down the rebellious mind, muffling anger and rage and reminding of the past.
Proud and solemn, we can tell about Bleed and Swell "dense, tough and powerful ballad" incredibly captivates with its sound. Guitar riffs in instrumental silver create an inexpressible impression of divine grace The title track Delirium Tremens after the lyrics and romance throws us into the very heart of the battle, enveloping the powerful whirlwinds of drive, combining these impulses with vocals in harsh and in growling style. Eerie hum in the background and romantic piano passages Self Immolation brings elements of Gothic.
These mythical and ancient motifs develops into Life Revolted powerful drive, combining an obscure mystery and unsolved mysteries with the restless power of the musical stream.
The main motive is performing in the You Will Die Alone introduction, further musical passages develop and supplement it, in music the harsh vocals dominates, the growling replaces it sometimes, in choruses only supplementing its phrases.
Husksweeps a powerful and irresistible storm of musical rabies, in a furious and irresistible drive sweeping away all obstacles from its path. The album ends with Pharma Culture composition, the melodies of which and vocal phrases are so full of mystery, as if they are puzzling more and more puzzles, asking more and more questions - but it is absolutely not interested in answers..