June 21, 2020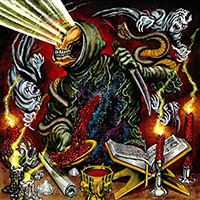 Exploding with a whirlwind of furious drive A Single Rose brings fury and anger to the musical sound, but then the vocals and musical variations bring influences of several more styles that will continue to be embodied in the musical essence of the Tithe - Penance album. But the Scum is pumping waves of unbridled rage, weaving vocal and musical passages in a frantic fury, holding back the swiftness of musical passages with emotional vocal excitement. But in instrumental fragments, the guitar solo flies away in a rampant stream of musical swiftness, then crowning this flight with brief vocal phrases.
The pensive burden of musical doubt envelops the mind with a haze of unclear expectations, with the introduction of Mantra vocals exploding in a whirlwind of unbridled rage. The mystical guitar sacrament sets unclear expectations with the Apostasy introduction, the vocals begin with the rhythmic pulsation of a dark anthem, but then calls for an acceleration of the musical narration entwined with shrouds of darkness and despair. The Palindrome immediately ascends on the wings of a swift drive, frantically uplifting the greatness of musical mystery and sometimes freezing under the influence of vocal appeals.
Negotiations between men and women on the radio confuse the intriguing atmosphere of the Psychedelic Neurogenesis intro, then after a brief phrase by the radio announcer, the vocals and music explode with fury and drive entwined with an atmosphere of mesmerizing melody. Severe, dense and significant vocals and music intertwine in the mid-tempo waltz of the Tetrahedron harsh anthem, weaving the fast-moving whirlwinds of their parts in the mid-tempo musical procession. Once again, a certain semblance of an interview or interview appears in the introduction, embodying male and female voices, then Lullaby concludes the album with a viscous and painful musical narration with emotional cries of vocal despair, rushing into an unbridled race of metal drive.