August 27, 2020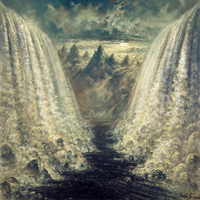 The Active Shooter song opens the gates for the Forgotten Tomb - Nihilistic Estrangement album's musical procession, taking you into the world of fantasy and adventure, captivating with a charming combination of mid-tempo melodies enveloping charismatic vocal phrases.
The next composition is a dilogy - at first the unhurried Iris' House, Pt. I creates a twilight atmosphere of an epic anthem, enveloping the vocal significance with covers of sparkling lace of dark melody. Then the Iris' House, Pt. II continues this unhurried procession, but hardens the musical narration, sometimes pumping up waves of dark drive. However, the mesmerizing guitar solo runs as a leitmotif through both chapters of the dilogy.
Slightly accelerating the pace, the Distrust? track builds up waves of restrained drive, winding up a deadly dance of musical passages, topped with a harsh vocal narration. After the instrumental part, the music transforms into a leisurely procession of the majestic anthem. The title composition Nihilistic Estrangement begins with a sparkling guitar solo, anticipating the unity of musical melody and vocal charisma, full of enchanting melodicism, combined in an incredibly melodic and hit musical stream. The Rbmk concludes the album by accelerating the pace and hardening the musical narrative, creating a kind of musical thriller. But the chime of a guitar solo pierces the composition with the blade of the leitmotif.