November 25, 2019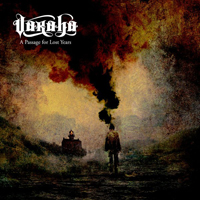 Dreamy chants of clean vocals give the sound of the main motive of the Severance composition some shades of detachment and dreaminess, giving the beginning of the Varaha - A Passage For Lost Years album an atmosphere of romantic reflection. But then the vocals becomes hardened to growling, abruptly whipping up the whirlwinds of indignation that recede before the dreams of clean vocals. The instrumental orchestral symphony The Midnight Oath fascinates with majestic melody and exalted wisdom.
The vocal returns again, at first pensively mourning with muffled clean vocals, then ascending into the whirlwinds of perky growling in the Climax & Exile song music. And again muffled whisper of clean vocals is given to reflection, reflecting on possible options for the development of the situation. After a long time deliberation, growling calls to complement the sound of the My World And Yours composition with drive and rage, ending it with sublime anger.
The instrumental symphony Disbelief is mesmerizing, alternating wind instruments and violins in a dominant role. Refrained continues the album with a rhythmic march, alternating pensive clean vocals with furious growling in the vocal part. At That Instant pensive instrumental symphony, soaring in circles of a brooding waltz, is the instrumental introduction of the title track A Passage For Lost Years, developing its motives and complementing them with the vocal part. Irreparable completes the album with an orchestra saga in which the vocals act only as background chorales combining the tunes of male and female vocals.