September 07, 2017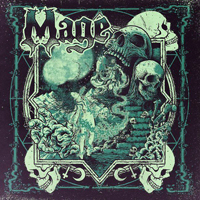 The uncompromising, driving No Where to Nothing introduction appeals to the thoughtful, all-around vocal, starting the Mage (ENG) - Green album with pulsating waves of drive, rolling from the outside persistently and stubbornly.
Depressing in a viscous silence, dark, impenetrable clouds of fog and dark, dark spirits arises from a slow, irresistible manner, subordinating everything around their influence. Then a surge of indignation gives rise to a wave of Heroic Elegy drive to the next, viscous, slow verse.
Pulsating in rhythmic march of the Primitive Drive music confidently, stubbornly and rectilinearly promotes its line. The vocal in this uncompromising march is only partially manifested, in several phrases, prophesying instructions.
Brightly, confidently and inevitably the title composition Green envelops us with the fetters of so memorable melody, whilst adding it with croaking guitar breaks, this flow of musical thoughts flows clearly, but viscously and viscously, the vocal does not resist - just puts the cornerstones in the milestones of this path.
Eclipse King continues a similar viscous, tightening atmosphere - entangling fetters with the unknown, enveloping the fetters of unknown gloomy predictions and the dense fog of gloomy omens.
After the tight, burdensome and binding fetters, The Wheel turns to freedom trying to break free in ... well, almost ... fast drive, rolling forward along the chosen path, which will never change forever and ever. But reflections overtake the viscous atmosphere in the instrumental part, crushing the swiftness with powerful beats of a harsh rhythm. But the desire for will is irreparable!
Soft, but stubborn and persistent symphony Vultures Mass, demandingly plunging consciousness into the abyss of hard and blasting sound, then again returning to the romantic troubles with the connection of the vocals, that complements with harsh and growling close to the end, the album completes.