February 23, 2020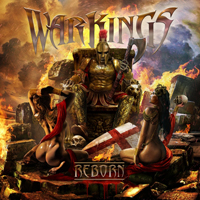 Introducing the epic echoes of oriental motifs and ancient legends into the introduction, Give em War then elevates the vocal part to the crest of a wave of musical image on the wings of a musical narrative. Powerfully and confidently, the music and vocals are intertwined in an irresistible unity, bringing to the chorus all the inherent musical style expected from the WarKings - Reborn album. The fighting spirit rolls Never Surrender in a waves of musical humility, complementing the intentions of the main vocal with the cries of brothers-in-arms. Continuing the fighting spirit with a medium-tempo majestic march, Hephaistos impresses with artistic intersperses of vocal and guitar variations.
Brief thoughts of the introduction set the path for the flow of the main motive of Gladiator song, exploding with a whirlwind of a violent action movie, raising vocal inspiration to the crest of the waves of musical narration. Wrapping a whirlwind of epic intro's motifs, Holy Storm then raises vocal phrases to a dominant position, complementing the singing along with companions.
The appeal of the choir, demanding blood for the sake of blood, begins the Battle Cry composition, combining musical fury with vocal inspiration. The furious action couplet is transformed by the thoughtfulness of the Fire Falling Down bridge, weaving the melody and drive together in the chorus.
Corresponding to the name, power and rage weave a furious whirlwind of the Sparta intro, suddenly starting a vocal part with a furious growling, which then goes back to the background and occasionally supplements the vocal part, sometimes coming to the fore. Inspirational prayers of the The Last Battle vocals appeals anticipate the development of musical compositions, then weaving a bewitching lace of musical sacraments around inspired vocal tunes.
The final album's Die Flut symphonic ballad elevates vocal reflections beyond ordinary meditations, enveloping vocal phrases with the mesmerizing grandeur of musical passages.