October 14, 2021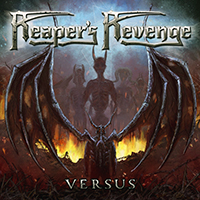 The To Whom Evils Sacrifice song spins the pendulum of the musical narrative of the Reaper's Revenge - Versus album, combining the rapid drive of the verse with the average-tempo march of the chorus. The Changing World composition partly continues to the stylistry of the predest track, however, the chorus on sound is more similar to the valiant chants of a battle anthem, the sound of which fully embodies the Warheads song.
The meaningful and sonorous guitar solo of the intro sets the stylistic direction of the development of the main motive of the Suicidal Genocide battle march, confidently marching on the way, the fierce sound of the fever with the fierce and deepening of the guitar riffs. Leisure meditations of the My Fading Silence romantic ballad complements melodic guitar passes inspired and emotional vocal chants. Starting with a violent drumroll, the Phlegmatrix composition rolls the musical canvas of a violent musical thriller.
The sound of intro sets the direction of development of the Scary Neighbourhood main motive, the vocal party only changes the procession in the chorus. The Arctic Winter Green song supports the same stylistic decision, slightly accelerating the music pace. The Images Untangled romantic ballad enchants the inspired vocal narrative and mossful museum of music. The Gapminder composition completes the album with an epic saga.