February 28, 2020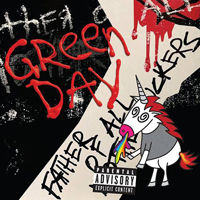 The title track Father of All... begins the Green Day - Father of All Motherfuckers album with a fascinating musical drive, an exciting sound of the main motive, topped with inspired vocal phrases. Next, Fire, Ready, Aim brings the vocal part to the front edge of the musical image, completing the measures with wordless tunes.
The vocal part paves the way for the Oh Yeah! main motive, complementing its phrases with rhythmic slamming of accompaniment. Guitar solo comes to the fore of the Meet Me on the Roof song, complemented by vocal variations floating around the musical axis. Inspirational vocal tunes return to the forefront of the sound of the I Was a Teenage Teenager composition, entering with muffled reflections, then ascending to the top of the dancing musical drive.
Exploding with a stream of drive Stab You in the Heart brings the influence of the classic rock'n'roll, complementing it with emotional vocal phrases. Sugar Youth continues the fierce power of sound - the vocals in the couplet recede into the background, but ascend along with the musical whirlwind of the chorus.
After emotions and drive Junkies on a High expands the stylistic framework of the album, introducing a certain share of reggae. But Take the Money and Crawl is whirling with a whirlwinds of southerly winds, complementing the musical atmosphere with the spice of the prairies. Graffitia concludes the album with mid-tempo slams, elevating the vocal part over the musical essence, emphasizing the vocal phrases with guitar riffs.