December 18, 2019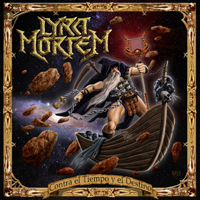 The muffled reflections of the lady creates a mystical haze of intriguing Lyra Mortem - Contra el Tiempo y el Destino album introduction 90 N - 42 S (feat. Judit Conte), further developing epic musical passages with the Sirenas song mid-tempo drive, raising vocal phrases to the peak of musical waves. La Sombra del Caos music and vocals harden the sound, vocal phrases end with an explosion of emotions, but the instrumental part with a bewitching guitar solo is preceded by an epic pacification.
Rolling the musical canvas of the De Entre Cenizas epic saga, vocal phrases capture the attention of listeners, enveloping them with echoes of ancient legends and fairy tales. Walking along the verge of a mid-tempo march and an epic ballad, the No Me Despiertes composition weaves an enchanting lace of majestic musical passages and significant vocal phrases.
Raising the prideful banner of the main motive to the Resiliencia (feat. Hector Llaurado, Luis Martin, Javi Gianno & Eric Moya) introduction, the verse's vocal phrases preserve the atmosphere of intrigue, erecting an impressive sound in the chorus. The harsh rhythms of the pulsating combat march lay the foundation for the Durmiendo en una Espiral introduction, then continuing with militant guitar riffs topped with emotional vocal phrases.
The softer motifs of the bard ballad are mesmerizing with the sound of the Sheliak introduction, then continuing in the epic musical narrative of the inspiring saga. But again returning to unbridled power and drive in the verse, Con el Alma Muerta (feat. Siver Solorzano) nevertheless raises the proud banners of the epic saga in the chorus. Starting with the bewitching notes of a minstrel ballad, introducing notes of medieval romance El Reloj de Arena (feat. Tony Robledillo) hardens the vocal part and ends the album with an incredibly diverse and varied composition, developing the musical motives from the introduction.