May 15, 2017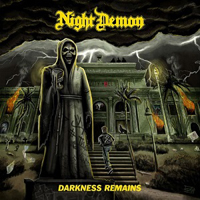 How many do not create light sources, do not surround yourself with lamps and stars - anyway Night Demon - Darkness Remains !
Welcome to the Night invites us into the embrace of impenetrable darkness, of all-pervading gloom. A leisurely, enchanting soft introduction gives way to an insistent, dense and impetuous drive, sparkling with vocal flashes and enthusiastic guitar breaks.
Cutting, rhythmic, accented tacts turns into the grim vortex in the open spaces of the Hallowed Ground. Then such parties replaces with melodic and fascinating vocal parts. And these changes repeats again and again.
Swift, unyielding and uncompromising drive raises story about Maiden Hell on a clear but narrow and tortuous path, all speeding up and accelerating its flight through the musical image.
Unhurried, rolling and persistently Stranger in the Room creeps into the surrounding reality, sounds like balanced, steady ballad. In the instrumental part, the tempo increases, complementing the composition with a portion of tangible drive.
The drive of the end of the previous composition have embodied in Life on the Run, carrying the banner of the violent and rebellious riot against the disgusted foundations.
Quickly, abruptly and without any delay, Dawn Rider starts his sharp, clear and confident march along the chosen path, completing each segment with quick and confident swings of the blade Solemnly and proudly, the introduction sounds, the tale of Black Widow begins with sharp and swift vortexes, combined in a dance of eye-popping drive.
On Your Own confidently, persistently and vigorously promotes its main motive through all obstacles and doubts, driven by conscious confidence.
Quickly, resolutely Flight of the Manticore is looking for more and more new ways, victims for subsequent raids and attacks. Then comes a respite, accumulating energy and strength for the subsequent fascinating, charming guitar solo, crowning the instrumental saga with bright sparkling crown before the next swift rush.
Title track Darkness Remains starts as restrained, blurry, whispering by distorted vocals, ballad. Then this distorted whisper have replaced by bright flash of instrumental celebration, combining into single wave of unrestrained inspiration and enchanting romance.
The album ends with the covers - Turn Up the Night, that sounds as tribute to Black Sabbath legendary song with Dio vocals and We Will Rock You, transforming solemn, majestic march of Queen to energetic, unrestrained youth entertainment, rejoicing in the rays of light, the blue sky and green grass.