August 20, 2022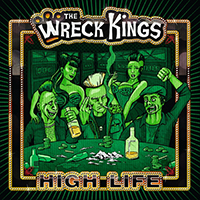 Vigorously raising the banner of musical drive, the I'm Alive song begins the musical story of the The Wreck Kings - High Life album, complementing the musical energy with emotional vocals shades and the essence of lyrical significance.
The following composition retains an energetic musical sound, complementing the main vocals with accentuatory the Highroller title with chants of musical companions in the chorus.
The spicy searing winds of the prairies in the musical passages and the emotional vocals narrative bring elements of Mexican folklore and local atmosphere to the sound of the Me Gustas Tu (Manu Chao cover) song.
The mystical mystery of the sound of the introduction of the A Forest composition is completed with vocals experiences and elements of musical differences, intertwined with vocals phrases.
Setting the main motif in the For What I've Done intro, the vocals part is then brought to the forefront of the musical, emphasizing in the chorus the mystical essence of the sound, retaining the primacy of the vocal part in the sound of the Blackout composition, which completes the album with a mysterious atmosphere with romantic shades and echoes of adventures in fairy tales.