October 26, 2021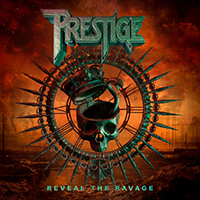 Insistent, irrepressible and exciting, the Innocent song takes you into the race of the main motif, starting the musical story of the Prestige (Fin) - Reveal the Ravage album with a combination of irrepressibility and artistic melody. The Burn My Eyes brings the vocals part to the forefront of the mid-tempo rhythmic march, marching in a confident procession, raising the banners of dusky severity. But the final section accelerates the musical passages in a whirlwind of unrestrained frenzy.
In a way that adds to the intriguing blade of the leitmotif, the Blessed Be song transforms again and again and adds other shades to the sound, varying and creating an immensely varied sound. Mystic echoes of oriental fairy tales complement the sound of the Pick Your Poison composition with touches of epic musical riddles.
The thoughtful and mysterious beginning, then the sound of the Exit song's music then follows the directions of the vocal part. The You Weep composition continues the dominance of the vocal part in the musical image, enveloping the vocal tunes in swirls of musical drive. Beginning with the drumbeat of a battle march, the In Remains then soars with a rapid race of musical drive, topped with the emotionality of vocals fury.
The guitar solo and drumbeat of the Ready? intro sets the direction of the leitmotif, at times interrupted by the dense rhythmic beat of a battle march. Enveloping the listener in a mesmerizing musical mystery, the Self Destruct song accelerates the tempo with the introduction of the vocals dominating the direction of the musical stream. Starting with the romance of an acoustic ballad, the Prime Time completes the sound of the album in a very diverse and multifaceted way.