September 21, 2017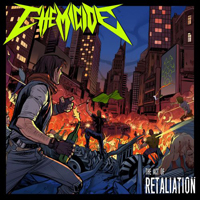 Reflections of the pensive wise man, recorded on the creaky media, begins Book Of Lies, opening the gates for the Chemicide - The Act Of Retaliation album in an unrestrained, reckless drive carrying away in a swift stream of musical ideas. The instrumental part is enveloped in a hazy fog of mysterious reverie, but drive returns to the guitar solo to complete the composition.
Accumulating strength and energy, rushing into the sharp jerk of the verse, sweeping aside the resistance the chorus repeats Democide again and again.
Bass guitar solo in the Age Of Extinction introduction sets the average tempo of the composition enveloping clouds of gloomy fog. Before the introduction of the vocals, the tempo accelerates in the twilight races.
A thoughtful instrumental composition Episodes Of Insanity raises the competition of guitar riffs to the top of perception.
The part of the title of the album, composition Retaliation, rushes in harsh, tough, unrestrained drive as the wave of rebellion, rage and anger. Take revenge, retaliate, let them answer for all their actions!
The Codified To Kill introduction envelops with impenetrable myst of rigid rhythmic melodies, inherent to doom death metal style. But the vocal, not taking away the average tempo in a rapid snatch, returns to this style. The instrumental part somewhat accelerates the rhythm, after not dramatically turning the music into the furious, deadly dance.
Again, viscous, tense motives concentrate power in unhurried stream. But before the introduction of the vocal music Inherited Suffering sharply picks up the pace, rushing in a rapid snatch, the vocal combines harsh with inclusions of growling.
Completing the album track Taken By Force in the intro rhythmically blows the steps into its path, then with the introduction of the vocals rolling its sound forward, at the end of the couplets dramatically increasing the power and drive. The completion of the composition and album melts away in the distance, under the creaking radio announcer's speaches.