February 17, 2020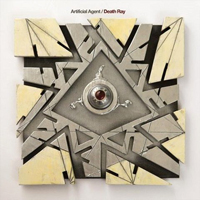 Imbued with emotions, hoarse-voiced vocal phrases go to the forefront of the Eye for an Eye musical image, opening the gates of the Artificial Agent - Death Ray album's promotion and raising the emotional essence of the experiences in the chorus. The guitar solo of the introduction sets the path for the development of the main motive, then the vocal part crowns the sound of Who's Got the Bat Now? song.
The rhythmic pulsation of the march procession sets the style of sound, vocal phrases completes the Waiting to Die musical essence. Sifting out the difference of epochs and times, The Devil Made Me Do It preserving the mid-tempo sound brings the atmosphere of traditional rock.
The bewitching romanticism of vocal reflections envelops in the Love or Lie ballad's atmosphere charm. The pulsating rhythmic sound brings the unity of several musical styles into the Finish Yourself Off song, combining vocal rebellion with theatrical charm of musical covers.
The romanticism of the heroic sagas gives an atmosphere to the sound of We All Need Heroes composition, but the musical passages are faster than the ballad sound, however vocal phrases inhibit the swiftness of the musical drive. Hardening in a rhythmic throbbing, like the Always a Victim vocals is hiding behind the rattle of mechanical gears, but then explodes with a surge of emotional experiences.
Returning again to the pulsation of the mid-tempo march procession, Strung Out takes the vocal part to the forefront, crowning the musical passages with vocal phrases. Exploding with gloomy expectations in a painful and mysterious introduction, Do You Love Me or What? ends the album with unbridled rebellion and sharp aspirations for freedom and freedom, breaking the order with sharp emotional vocal phrases.