December 02, 2019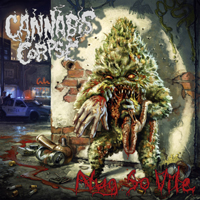 Shots, explosions and screams precede the beginning of a fierce musical drive of the Conquerors of Chronageddon composition, which begins with persistent eruptions of rage, alternating between fast-moving passages with vocal screaming with medium tempo, choosing between a harsh and growling. The title track Cannabis Corpse - Nug so Vile continues the album, introducing into the musical expanses shades of the majestic dark anthem with significant growling, furious fragments with a harsh or growling and bright guitar solos in instrumental fragments.
The mesmerizing melody, shrouded in an artistic transformation with notes of classical music, captivates with the sound of the Blunt Force Domain introduction. Then a short solo bass guitar precedes the introduction of vocals, ending the growling phrases with harsh cries.
But artistic musical variations culminate in Cylinders of Madness uncontrolled stream of musical fury and rapid drive. The Blasphemy Made Hash introduction swirls in a thoughtful dance, then backing away in front of an impressive guitar solo and vocal narrative. But then the music and vocals are intertwined in a fierce dance of musical power and unbridled drive, varying the pace palette.
Muffled reflections and obscure musical notes precede the explosion of unrestrained musical power, blowing everything to smithereens. But vocal phrases return the spirit of former thoughtfulness, severely and significantly rolling out the musical canvas of the Cheeba Jigsore Quandary song. Powerfully rolling out the wonders of the musical narrative, the vocals saddle them and ride them in the development of the musical essence of the Edibles Autopsy composition.
The viscous gloom of intro ends with a swift drive with the introduction of vocals, transforming into a sparkling extravaganza of the guitar solo of the instrumental part. But vocals vary the pace and originality of the Dawn of Weed Possession musical narration.
Climbing the whirlwind of rapid musical fury The Cone is Red (Long Live the Cone) with the introduction of vocals tends to some restrain drive rage. Starting with the bass guitars solo, The Ultimate Indicantation develops the notes he sets in a whirlwind of the deadly dance of the main motive, completing the main part of the album. However, this release is finnished by From Enslavement to Hydrobliteration (bonus track), which is very interesting in varying the fusion of styles and playfully juggling musical variations with deep growling, pumping the incredible severity of the atmosphere.