February 13, 2021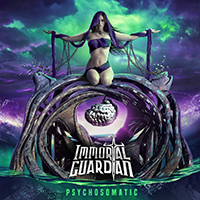 The title track opens the Immortal Guardian - Psychosomatic album with a spicy note of oriental folklore, entwining vocal reflections with sparkling reflections of heated thoughts. A bright guitar solo of the intro soars in a burst of symphonic artistry and progressive moods of the development of the Read Between The Lines composition, continuing with disturbed vocal phrases entwined with majestic musical covers. The vocal monologue tells the story of the creation of the Lockdown composition, soaring in a swift whirlwind of unity of melody and drive.
Whipping up a premonition of alarming changes, the music and vocals create an atmosphere of sophisticated uneasiness, accentuating the title of the Phobia (Feat. Marcelo Barbosa) song in the chorus. Of particular note is the guest musician's guitar solo. Progressively weaving symphonic musical motifs with vocal experiences, the Clocks track creates a springboard for musical acceleration that lifts the vocal tonality and sparkling play of guitar solos skyward. The guitar solo of the Self-Isolation intro raises sensual experiences and inspired perception of melody to incredible heights, anticipating the further flight of musical drive, topped with the Goodbye To Farewells (Feat. Mary Zimmer) vocals inspiration. Once again, the sound is influenced by the participation of a guest musician - this time the demonic fury of a guest vocal witch.
Carrying away to a walk in a mysterious haze, the vocals head for the Candlelight, enchanting with the musical lace sound of a romantic ballad. The Find A Reason song continues the ballad sound, bringing the vocal part to the forefront of the musical image, complementing the vocals experience with waves of musical pulsation. After the progressive fracture of the musical passages of intro, the New Day Rising track accentuates the progressive essence of the album's musical sound.