February 09, 2019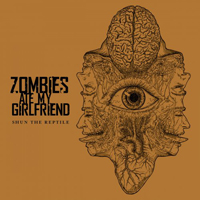 The gloomy passages of the The Worst Is Yet To Come intro erects an obscure haze of intrigue, creating an epic canvas, but the vocals roll in in fierce waves of fierce drive, introducing swiftness and cutting into the music of the Zombies Ate My Girlfriend - Shun The Reptile album.
In a fascinating musical dance, Nothing Can Save You vocals phrases of screaming and growling are intertwined, then carried off in an impetuous drive stream, repeating the interweaving in verses. Autoriot continues this style, but in the vocal part of the chorus, dreamy phrases of clean vocals comes to the fore.
The acoustic ballad begins the development of the composition, then the rebellious riff continues the Immolation sound, then these contrasts are woven together, from time to time bringing one or the other to the forefront of the musical image.
The title composition Shun The Reptile begins with an orchestral symphony, then the main motive develops into a furious flow of unrestrained drive, combining many genre shades in a single musical stream. It should be noted that the title track returns the sound of the album to the expected melodic death metal.
Well, since we began to drive the pile in the way of style, then Van Eck continues it confidently and successfully. Perhaps the most successful composition of the album - the alternation of vocal styles and musical changes fits in a short time, fascinates and fascinates. The war against all, the denial of anything - but what to explain, the beginning of the Go Fuck Yourself gives instruction and narration, then the impetuous drive breaks these chains and grids! The album is completed with a very peculiar Icarus composition, combining an indescribable variety of musical styles in its sound - which is worth only vocal transformations!