December 28, 2018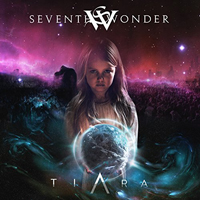 The leisurely grandeur of the Arrival classical symphony marks the beginning of the Seventh Wonder - Tiara concept album, anticipating the development of musical extravaganza. The Everones rolls in waves of progressive drive intertwined with symphonism. The vocals bring emotionality and emotions to the music, elevating feelings and impressions to an unknown level.
After so fascinating intro, the Dream Machines main motif envelops perception, enveloping fascinating vocal phrases in the inspired sphere of musical laces.
Acoustic guitar solo begins so fascinating Against the Grain symphony that prepares incredible romanticism for fascinating vocal phrases, overplayed with musical delights in progressive musical solutions. After experiencing a couplet, intertwined with acoustic romanticism, the vocals ascend in a majestic emotional whirlwind in the refrain, offering prayers to higher realms.
The vortex of experiences lifts keyboard passages to the dominant position of the Victorious musical image, they and the vocal part set the vector of development of the musical composition.
The album continues with the trilogy that dominates his image, starting with inspirational doubts and emotional experiences of the title Farewell (Part 1: Tiara's Song) ballad. Farewell (Part 2: Goodnight) inspired romance continues the trilogy, introducing progressive elements in the verse into the musical image and inspirational romance inherent in other styles of music in the chorus. The trilogy is completed by so inspired lyrical Farewell (Part 3: Beyond Today) composition, which combines musical romance with vocal experiences, making the sound even easier and relating it to the inspirations of popular music.
The Truth pensive ballad continues to reflect, giving greater importance to the female vocals that have been shown against the background. By the Light of the Funeral Pyres vocal experiences adds the album inspiration and several new shades of epic experiences. I would especially single out the marvelous passages of the instrumental part.
In the introduction, exploding with impetuous drive, complementing with vocal Damnation Below weaves a lace of progressive musical passages, fascinatingly enchanting you with impressive experiences.
Church musical symphonies complement the vocal confession Procession, anticipating the development of the subsequent Exhale composition. The final composition of the album completes it by varying many variations of the sound, as if juggling the experiences of the listeners.
However, the completion of the album is postponed by the acoustic version of the title composition - Tiara's Song (Acoustic Version) discards the rhythm section, complementing the vocal experience only with the chime of the acoustic guitar strings.