September 26, 2021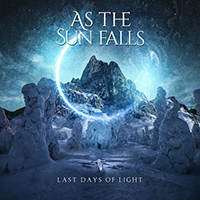 The fascinating guitar solo creates an epic atmosphere of the northern fairy tales, which is continuing in a variety of variations of the sound of the title musical saga of the As the Sun Falls - Last Days Of Light (EP) album. Then the sound again returns to the intro's guitars solo, complementing its atmosphere with background musical chorates and trees of flutes, then sealing the sound of the guitar solo using the electroguitar's charming passages.
The fierce racing of the unrestrained drive is embodied in the violent sound of the First Snow musical thriller, combining musical power with vocals rage. The Through The Storm song is even more hardering the musical pressure, combining the violent power of guitar riffs with the severity of vocal rage, embodied in a deep and powerful male grover. Guitar solo sometimes bring the sparkle reflections of the northern fairy tales.
Romantic guitars solo of intro creates the atmosphere of northern saga, embodying the epic atmosphere of the Way To The North road in combination with the coming tests on such a complex and replicable path. The solemn procession of the Unforgotten epic anthem inspires the legends about the ancient heroes, complementing the awesome melon of musical passages with a valiant vocal narrative.
Developing and continuing the musical motifs given in the previous composition, the From Thy Deepest song gives them some shades of the battle march, then retreating before the acoustic guitar solo, followed by a solemn procession of the Vikings, chanting the exploits of their ancestors. The Yhden Tähden Alla completes the album in the similarity of the previous tracks, combining musical power and vocals significance.