March 30, 2019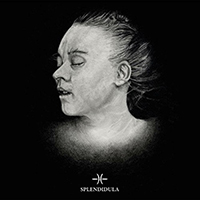 Mysterious twilight envelops the beginning of the Splendidula - Post Mortem album with the Post mystery, with illegible background chants against the twilight background. The jerks of irrepressible drive appeal to the emotional phrases of the female vocal, but then enchanting vocals with oriental chants pacifies with its experiences music to a viscous meditation. Then the male vocals adds the significance to the Nami composition with the severe growling.
The pulsing musical rhythm creates a brooding atmosphere for his dialogue with her. Then the female vocals come to the forefront of the Too Close To Me song narration.
Dense waves of a mid-tempo drive anticipate the introduction of .38 vocals, then entangling charming and fascinating phrases of her reflections. Brief inclusion of growling precedes the instrumental part of the composition and completes it by entering the final part.
Music and vocals envelops the atmosphere of Insanity romantic ballad, from time to time tightening up their narrative and reducing in the final part to the wisdom of the bewitching oriental anthem, funeral service of the army of dead ghosts.
Thoughtful romanticism of the Aturienoto composition pushes aside the English-language lyrics, turning to the franch phrases, giving greater sensuality and mystery to the narration of a soft and fascinating ballad, in which the phrases of the female vocal are framed with the background of male chants. Inspiration and striving for change brings vocal phrases to the top of an annoying drive, rolling waves of freedom-loving intentions, giving way to fascinating melodic passages in bridges and transforming to Stream Of Consciousness romantic anthem in the chorus. The title track as if includes the rest of the album - the first half of its title is an introduction, Mortem completes it with a chime of an acoustic bard narration. Violin motifs complement the song, giving it a tinge of saddened symphony.