November 23, 2017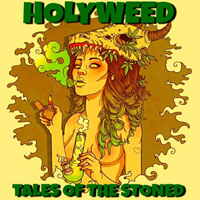 Snow White's Child in a pensive veil begins mysterious, pacifying instrumental delights Holyweed - Tales Of The Stoned, pierced by anxious anticipations. But the romantic mood suggests - this is the expectation of thoughts and ideas, without any inclination to dramatize the results that has obtained.
A similarly thoughtful ballad Cinderella Smoked Weed envelops the smoke of smoked crops, setting a dreamy mood. Then the music becomes thicker and denser, the fog that envelops our consciousness generates amazing images.
The main motive manifests itself from the first notes of Prince Was A Frog, but the rolling waves of the rhythmic march only creates the basis, the music increasingly encompasses the cohort of the main motive with ever new and increasingly diverse passages. Sublime exquisite motifs lifts the mind into the space of illusory dreams Doomed Red Riding Hood, sparkling with cloud locks and illuminating unconscious ideas. Then an anxious and stubborn motive complements this realm of illusion with the stubborn drive of a ghostly locomotive.
A powerful, stubborn rhythm drives the steps with a confident but unhurried march Hare Didn't Care, m arching in proof to the public with a proud procession along all roads, stubbornly marching toward the goal known only to the chosen one.
Hot, wise with the scorching sun, shrouded in sandstorms and desert barkhans, oriental motifs are embodied in an interesting and exciting saga Aladdin's Ecstacy, enveloping the mind and consciousness with sultry charms.
Forest animals lurks in every shadow, viscous and searing sounds relax the grazing sheep and goats to distract from the awareness of the fact - Wolf Ate Goats. But the shepherd watches vigilantly the surrounding reality, slow and stiff music does not disperse his attention and concentration.