March 04, 2022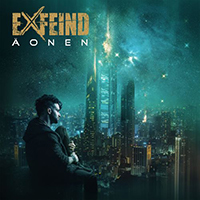 A twilight mystique with mystical intriguing vocal foreshadowing begins to roll out the musical canvas of the Exfeind - Aonen album, then accelerating the sound of the Wie Von Einem Anderen Stern song in an impatient zeal for the things to come, again enveloping the twilight mystique of the verse. The Supernova track, after a mesmerizing introduction, then raises the banner of its title in a vivid inspiration of musical artistry. The vocal part comes to the forefront of the Nachthimmel musical image, wrapped in electronic pulsations of musical inspiration.
Symphonic atmosphere combines with futuristic musical nuances in the sound of the Es Sieht Nach Regen Aus ballad, shrouding a veils of musical originality over the mesmerizing vocal phrases. The album's lyrics are transformed by the English lyrics of the I Won't Lie song, expanding the sphere of potential fans of the band with romantic mysteriousness of musical inspiration. Returning again to sensual mystery, the Bis Ans Ende Der Unendlichkeith composition charms with the unity of the mysterious vocal prophecy of the verse and the raising of the musical banners of the solemn anthem in the chorus.
Rhythmically, pulsating and insistent, the Monochrom song seems to roll in waves of mechanical transformations, embellishing the grinding of the machine with the dreamy inspiration of vocal reflections. After the sparkling artistry of electronic pulses, the Heibkalt track sparkles in exalted musical triumph, foreshadowing the intriguing epic mystery of the Wach Auf futuristic saga. The album's Silberstreif final track envelops the listener in a joyous mood.