December 01, 2019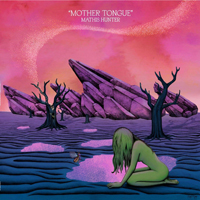 The pulsating heartbeat of the main motive, the title track of the Mathis Hunter - Mother Tongue album opens the door to the development of this musical creation. An inspirational percussion beat of percussion solo brings the drum kit to the forefront of the musical narration of the Long In The Tooth song, then vocal and guitar passages complement it with their own shades, guitars are given bends of improvisations.
After an intriguing expectation, the mesmerizing spirit of the blues lays into the sound of the Tea For Two introduction, retreating into the background after the vocal reflections of the verse and twisted in progressive lace of the chorus variations. Romantic tunes of enchanting fairies and invisible creatures envelops Liquid Lair vocal reflections with enchanted shades.
The rhythmic sound of the introduction pumps out the pulsating waves of the Cherokee Rose inspiring march, rolling in musical waves that lift the foam of vocal phrases. Viscous musical passages envelop vocal phrases with viscous motives of the Mrs. Vinegar pensive ballad.
Light, inspiring musical trends create mesmerizing clouds of Forever And A Day dreamy tunes, enveloping the enchanting atmosphere of amusing playfulness. But then Table Turning walks through a stern and painful march of significant thought, rhythmically driving in piles for his musical procession.
Dancing swiftly, easily and tirelessly, Hobby Horse brings to the sound of the musical release the ever-young rock'n'roll spirit. But after fun dancing and entertainment, Even Out ends the album with a leisurely, thoughtful ballad.