September 30, 2020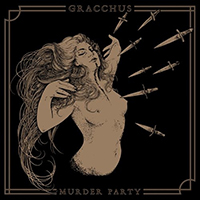 The guitar solo of the introduction sets the direction for the development of the Living For Too Long main motive, but the vocal part gives the sound of the composition spicy oriental shades and the mood of romantic experiences. The Whispers song continues the Gracchus - Murder Party album with an even more intriguing ballad, complementing the vocal sensuality with musical mystery.
Bursting with a musical stream of rebellious drive, the My Love track immediately connects vocals to the development of fast-paced musical narration. The Lying Tongue vocals experiences indulge in saddened doubts, then surging in sparkling reflections of feelings and experiences. The progressive artistry of the guitar solo continues with tempo variations to complement the charm of the Sewn Together vocals phrases.
Returning to the rhythmic solutions traditional for the style, which have undergone a progressive rethinking, The Plug song creates a sublime mood with a vocal narration. Twisting a bewitching lace of musical lace around a vocal part, which sometimes hardens to a furious harsh, the A Lost Traveler's Guide composition creates a very impressive sound. The Spilled Remains song ends the album with a bewitching fairy tale echoing in the dialogue of vocal phrases.