December 13, 2018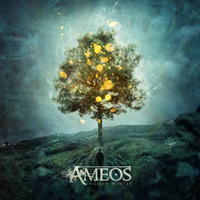 The dim veil of the Midnight Seeker main motive is intertwined with the enchanting trends of dark motifs, then the vocal brings cautious feelings and brings up encouraging motifs in the chorus, giving the Ameos - Human Winter album shades of diversity and a combination of contrasts.
Starting with romantic meditations, Detached (feat. Katharina Mork) rolls over in a verse with a wave of experiences and fears, rising in the chorus with a shaft of anxious drive, raising a wave of anxiety and alarm.
A whirlwind of experiences shrouds the mind with a veil of gloomy doubts, the Beyond My Mind vocals part embodies these emotions in thoughtful reflections, occasionally exploding from the background with rage and being carried away in this rage to the upcoming battles and fights. Chorus envelops the spirit of confidence and harsh readiness for the upcoming trials.
Anxiety and anxiety pulsate with vibrant rhythm, rolling with progressive broken waves, the Burning Lies vocals part raises this anxiety to the level of unthinkable detachment, but in the chorus it asserts its readiness for any troubles with the choir.
The introduction brings back the light of popular music, the verses distorts and breask them into a progressive broken rhythm, but they will return to the Hearts War (feat. Katharina Mork) chorus and instrumental bridges again and again. In anticipation of the final chorus, the vocal confuses the musical image with thoughtful reflections, entangling musical passages with gloomy experiences. But the chorus rejects doubts and finishes the song confidently and clearly.
Broken progressive motifs begins the Arctic Sun (feat. Katharina Mork) composition with a fascinating intrigue, then the vocals add the charm of a romantic ballad, interlacing in enchanting lace with progressive musical passages.