August 05, 2021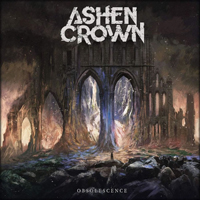 The ringing of the bell and the alarming premonitions with the distorted mysticism of the dark sermons creates the Unbroken Faith intro's mood, further rolling the musical beam of the twilight anthem, sometimes rolling the waves of a restrained drive. The Crimson Sea composition hardens and fascinates musical sound, continuing the musical narrative of the Ashen Crown - Obsolescence album more dense and rhythmic battle march.
The Ultimatum song is rapidly speeding up the music pace, rapidly chasing the vocal phrases by high-speed guitar riffs. The Right to Rise vocals monologue foreshadows the introduction of medium-level significance, combining vocal reflections in a dance with a melodic guitar solo. The Guilty of Hatred continues the dense and severe importance of the musical narration, putting forward the vocal part to the forefront of the musical image.
Guitar solo in the Blood Beneath Us intro builds a ghostly castle, then combined in a restrained drive with guitar riffs, returning to the melody of entry into the chorus. The Fall of Thine Eyes puts forward a vocal part, varying screaming and grover, on the forefront of the musical image. The Under the Leaves composition completes the album with a rhythmic dance that subordinates the rhythmic structure of vocal instructions.